Enterprise Process Center
Enterprise Process Center brings a new dimension to Business Process Management (BPM) with new interoperability functions and a powerful (optional) Workflow Module. Interfacing has effectively redefined the suite as the new features allow Interfacing to leverage its 'smart' process repository to provide organizations with an integrated business architecture, GRC, and execution platform.
EPC users now more than ever can realize their business goals, establishing a sound strategy-based business architecture using the EPC's modeling and process repository tools. This transparency allows users to take the next step towards process maturity by streamlining the end-to-end automation of what were once people and system-intensive processes.

View the EPC System Architecture: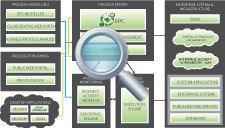 Click to enlarge